FictionJunction – Introduction
"FictionJunction" is Yuki Kajiura's pseudonym when she works with other selected singers, such as "FictionJunction featuring YUUKA"; eventually this changed to "FictionJunction + vocalist name", to indicate the collaboration between Yuki Kajiura and the respecive vocalist. In these collaborations, Yuki composed, wrote and arranged all the songs. From 2009 onwards, four of the FictionJunction-titled vocalists (WAKANA, KEIKO, KAORI) formed a legitimate singing group named "FictionJunction", with the addition of Yuriko Kaida, who till then was providing chorus to songs along with Kaori Nishina, without being part of the collaborations. FictionJunction YUUKA is still performing solo in collaboration with Yuki Kajiura, but now releasing under the "FictionJunction" group, while even though Asuka Kato (from is FictionJunction ASUKA) theoretically is inside FictionJunction, she release something since the everlasting song single and didn't appear in the group's live appearances for a long time.
The FictionJunction collaborations from 2003 until 2008 have been (in alphabetical order of appearance):
FictionJunction ASUKA (along with Asuka Kato)
FictionJunction KAORI (along with Kaori Oda)
FictionJunction KEIKO (along with Keiko Kubota)
FictionJunction WAKANA (along with Wakana Ootaki)
FictionJunction YUUKA (first known as FictionJunction featuring YUUKA) (along with Yuuka Nanri)
FictionJunction – Flying Dog / Spacecraft era 2008 – 2019
Vocalists: Yuuka Nanri, Kaori Oda, Keiko Kubota, Wakana Ootaki, Asuka Kato, Yuriko Kaida
Composer/Arranger: Yuki Kajiura
Lyrics: Yuki Kajiura
Producer: Yuki Kajiura
Publisher: Victor Entertainment (later known as Flying Dog)
Agency: Spacecraft Produce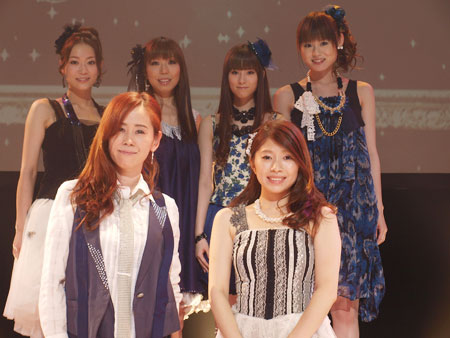 The FJ band with the 2008-2019 line up: Yuki Kajiura with Wakana Keiko Kaori Yuriko and Yuuka, during Yuki Kajiura Live Vol.#4.
---
In 2009, an album is announced, containing self-covers of Yuki's previously released songs along with some previously released songs sung by the FictionJunction girls, plus new tracks. Its name is Everlasting Songs and was released on February, 25th.
The first single of the new FictionJunction era, titled Parallel Hearts, is released on April 29th 2009. It contains the homonymous song, which is the opening theme of an anime series called Pandora Hearts, plus a b-side called (Hitomi no Chikara). Parallel hearts (performed by Wakana, Kaori, Keiko and Yuriko Kaida) is a nice up-tempo song, and the lyrics describe the process of growing up. For this song Yuki wanted to go back to her early days (simple melody and easy-to-understand lyrics)
The PV is different from what we usually see, with a more present Yuki. It takes place in a building that distributed boiled rice during wartime in Japan, and now only the walls we can see in the PV were left.
On July 12th, 2009, JVC announced that the Yuki Kajiura LIVE Vol. #4 Everlasting Songs Tour 2009 concert in Tokyo, will be released in 2 DVDs separately. The first DVD was released in October 21, 2009, containing the first part of the live where FictionJunction YUUKA performed, while the 2nd DVD, titled FictionJunction~Yuki Kajiura LIVE vol.#4 PARTⅡ~ was released in December 23, 2009, containing the second part of the event, where the 4 girls of FictionJunction (Wakana, Keiko, Kaori, Yuriko Kaida) performed. Its notable that the last song " Angel Gate " was included in both DVDs, because its originally an FJYUUKA song while in the concert it was performed by all the singers (Yuuka, Hikaru, Wakana, Keiko, Kaori, Yuriko Kaida).
On November 16, 2009 was announced by JVC that FictionJunction will be performing the Opening theme song for the anime Ookami Kakushi, called Toki no Mukou Maboroshi no Sora, with single release on January 27, 2010.
On January 12th, 2010, the day of the first live vol 5 concert, was announced that a double CD release will come out in May 12, 2010, containing songs recorded from the Yuki Kajiura lives vol 2 – 5. Later was released tracklist and the release title, "FictionJunction 2008-2010 The BEST of Yuki Kajiura LIVE". Its noteable that in the 2nd disc was included the unreleased song "voyagers" which Yuki Kajiura had composed for NHK and was used as theme of the ecomics show 「経済羅針盤」 (Keizai Rashinban).
On February 23, 2011, was released, a cover album for the anime Yuusha Exkaiser titled Harvest, containing covers by various artists of songs from the anime. FictionJunction did track #8, Gatherway, which was arranged by Koichi Korenaga, Yuki electric guitarist, while Yuki Kajiura did the chorus arrangements. Main vocals sung by KAORI while YURIKO KAIDA, WAKANA and KEIKO were providing chorus.
On May 9th, was announced that they would release their 3rd single stone cold, with hitorigoto as b-side song, the single would be used as Opening them of the TV anime Sacred Seven.
On June 16 was announced that FictionJunction is also doing the Opening Theme song for the PSP game Senritsu no Stratus developed by KONAMI. The song is titled Eternal Blue.
One year later, on June 28th, 2012, was announced that will release a single for their new song 「distance」 (used as Ending Theme on Mobile Suit Gundam SEED HD Remastered anime), coupling with 「eternal blue」, on August 29, 2012.
On November 30 was announced that a live DVD/BD with video recording of the Yuki Kajiura LIVE vol.#9 "Shibuya Public Hall Special" would be released on February 20, 2013. The concert had Hanae Tomaru as guest vocalist and FictionJunction Asuka as secret guest. This Live DVD/BD was the first released since vol#4 and the first Yuki Kajiura concert released on Blu-ray.
On September 25, 2013 was announced that FictionJunction would release a new album, titled 「elemental」 in early 2014, the group's first album since Everlasting Songs released 5 years ago. Later it turned out the new album would come out on January 22, 2014, containing 13 songs in total, of which 8 were the songs released from "Parallel Hearts" till "distance/eternal blue" singles, and 4 the new songs of which 1 would be a self-cover (storm, from Mai-Otome Zwei, originally sung by Ami Koshimizu). FictionJunction Yuuka's "Yakusoku" was also included, first time making it into an album. No PV was released for the album. A Tour titled Yuki Kajiura Live vol #11 tour / elemental Tour 2014 was announced to promote the album, with performances from February 22 til April 20, 2014, with 2 FictionJunction YUUKA performances prior to the tour on February 8 and 9, 2014 titled FictionJunction YUUKA 2 Days Special. Furthermore a Taiwan performance was announced later on titled Yuki Kajiura LIVE vol.#11 / elemental Tour 2014 in Taipei」which would be held on April 12, 2014 (Saturday) at ATT SHOW BOX (Taipei)
LIVE Performances
April 5, 2008 Yuki Kajiura LIVE VOL#1
July 31, 2008 Yuki Kajiura LIVE VOL#2
September 13, 2008 Hokuto no Ken Wedding (Collab.)
December 27, 2008 Yuki Kajiura LIVE VOL.#3
May 9, 2009 Pandora Hearts Event 『Knave of Hearts』 (Collab)
May 31, 2009 FictionJunction Club Event: Talk + mini-mini LIVE (+ Hikaru from Kalafina)
July 8, 2009 Yuki Kajiura LIVE Vol. #4 Everlasting Songs Tour 2009 (2nd part)
July 9, 2009 Yuki Kajiura LIVE Vol. #4 Everlasting Songs Tour 2009 (2nd part)
July 12, 2009 Yuki Kajiura LIVE Vol. #4 Everlasting Songs Tour 2009 (2nd part)
August 22, 2009 TBS Anime Fest 2009 (Collab.)
August 23, 2009 Animelo Summer Live 2009 -RE:BRIDGE- (Collab.)
December 12, 2009 FictionJunction Club Event: Talk + mini-mini LIVE # 2: Tokyo
December 13, 2009 FictionJunction Club Event: Talk + mini-mini LIVE # 2: Tokyo
January 9, 2010 Yuki Kajiura LIVE vol. # 5 ~ LIVE ~ Special Japanese seal
January 11, 2010 FictionJunction Club Event: Talk + mini-mini LIVE # 2: Osaka
January 12, 2010 Yuki Kajiura LIVE vol. # 5 ~ LIVE ~ Special Japanese seal
May 9, 2010 .hack//LIVE
May 16, 2010 Kajiura Produce 3rd Anniversary LIVE TOUR FictionJunction/Yuki Kajiura LIVE vol.#6
May 23, 2010 Kajiura Produce 3rd Anniversary LIVE TOUR FictionJunction/Yuki Kajiura LIVE vol.#6
May 30, 2010 Kajiura Produce 3rd Anniversary LIVE TOUR FictionJunction/Yuki Kajiura LIVE vol.#6
June 6, 2010 Kajiura Produce 3rd Anniversary LIVE TOUR FictionJunction/Yuki Kajiura LIVE vol.#6
June 13, 2010 Kajiura Produce 3rd Anniversary LIVE TOUR FictionJunction/Yuki Kajiura LIVE vol.#6
December 26, 2010 FJC Annivesary Live "Best 20″~3rd Aniversary,Live & Special~
June 29, 2011 Yuki Kajiura LIVE vol.#7 "FICTION"
July 10, 2011 Yuki Kajiura LIVE vol.#7 "FICTION"
October 16, 2011 FictionJunction & Yuuka Nanri Special Event
March 16, 2012 Yuki Kajiura LIVE vol.#8 "Spring 2012"
March 17, 2012 Yuki Kajiura LIVE vol.#8 "Spring 2012"
April 8, 2012 Yuki Kajiura LIVE vol.#8 "Spring 2012"
June 29 – July 2, 2012 Yuki Kajiura & FictionJunction at AnimeExpo 2012
July 7 – 8, 2012 TYPE-MOON Fes(tival) -10th ANNIVERSARY EVENT- (Collab)
August 31, 2012 Yuki Kajiura LIVE vol.#9 "3 days special" "Japanese song only Special"
September 1, 2012 Yuki Kajiura LIVE vol.#9 "3 days special" Sound Track Special"
September 2, 2012 Yuki Kajiura LIVE vol.#9 "3 days special" "Japanese song sealed Special"
September 9, 2012 Yuki Kajiura LIVE vol.#9 "Shibuya Public Hall Special"
May 11, 2013 20th Anniversary Yuki Kajiura LIVE vol.#10 "Kaji Fest. 2013"
September 20, 2013 Yuki Kajiura LIVE in Hong Kong
September 25, 2013 Yuki Kajiura LIVE "2-days in Daiba"
September 25, 2013 Yuki Kajiura LIVE "2-days in Daiba"
February 22, 2014 Yuki Kajiura Live vol #11 / elemental Tour 2014
February 23, 2014 Yuki Kajiura Live vol #11 / elemental Tour 2014
March 9, 2014 Yuki Kajiura Live vol #11 / elemental Tour 2014
March 16, 2014 Yuki Kajiura Live vol #11 / elemental Tour 2014
March 22, 2014 Yuki Kajiura Live vol #11 / elemental Tour 2014
March 29, 2014 Yuki Kajiura Live vol #11 / elemental Tour 2014
April 5, 2014 Yuki Kajiura Live vol #11 / elemental Tour 2014
April 12, 2014 Yuki Kajiura LIVE vol.#11 / elemental Tour 2014 in Taipei
April 20, 2014 Yuki Kajiura Live vol #11 / elemental Tour 2014
January 31, 2015 FictionJunction CLUB Members Only New Year Special LIVE 2015
February 1, 2015 Yuki Kajiura at 「Sword Art Online event "Sing all Overtures"」
June 10, 2015 Yuki Kajiura LIVE vol. # 12 "7days Special" – DAY 1 – Japanese-only Special
June 11, 2015 Yuki Kajiura LIVE vol. # 12 "7days Special" – DAY 2 – Japanese-only Special
June 12, 2015 Yuki Kajiura LIVE vol. # 12 "7days Special" – DAY 3 – Soundtrack Special
June 13, 2015 (Day Stage) Yuki Kajiura LIVE vol. # 12 "7days Special" – DAY 4 – Soundtrack Special
June 13, 2015 (Night Stage) Yuki Kajiura LIVE vol. # 12 "7days Special" – DAY 4 – Japanese-only Special
June 14, 2015 Yuki Kajiura LIVE vol. # 12 "7days Special" – DAY 5 – Japanese sealed Special
June 20, 2015 Yuki Kajiura LIVE vol. # 12 "7days Special" – DAY 6 – Japanese-only Special
June 21, 2015 (Day Stage) Yuki Kajiura LIVE vol. # 12 "7days Special" – DAY 7 – Soundtrack Special
June 21, 2015 (Night Stage) Yuki Kajiura LIVE vol. # 12 "7days Special" – DAY 7 – Japanese sealed Special
July 18, 2015 Yuki Kajiura LIVE vol. # 12 "Orchard Special"
July 19, 2015 Yuki Kajiura LIVE vol. # 12 "Orchard Special"
FJC "Best 20" Part 2 FJC "Best 20" Part 2
March 21, 2016 Yuki Kajiura Live Vol.#13〜featuring SWORD ART ONLINE
March 26, 2016 Yuki Kajiura Live Vol.#13〜featuring SWORD ART ONLINE
March 27, 2016 Yuki Kajiura Live Vol.#13〜featuring SWORD ART ONLINE
Discography
Appearances
Everlasting Songs many tracks in this album are rearrangements of songs which were used in anime
Parallel Hearts – Opening Theme song of Pandora Hearts
Toki no Mukou Maboroshi no Sora – Opening Theme song of Ookami Kakushi
Stone Cold – Opening Theme song of Sacred Seven
Eternal Blue – Opening Theme song of Senritsu no Stratus
distance – Ending Theme song of Mobile Suit Gundam SEED HD
---
FictionJunction – SACRA / Highway Star / FJMusic era 2019- present
Vocalists: Kaori Oda, Keiko Kubota, Yuriko Kaida, Joelle, Asuka Kato, + other collaborative artists
Composer/Arranger: Yuki Kajiura
Lyrics: Yuki Kajiura
Producer: Yuki Kajiura
Publisher: SACRA MUSIC
Agency: Highway Star
Label: FictionJunction Music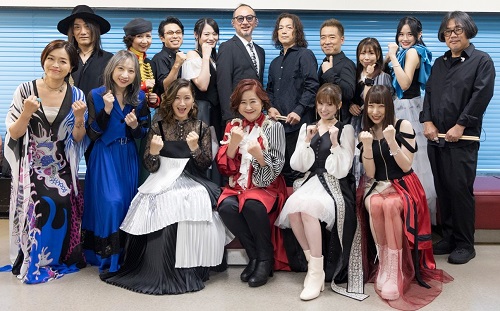 The FJ band with the 2019-present line up: Musicians, Vocalists & guests after YK Live vol #17 "Parade" (Aug 12 performance)
---
(new text)
LIVE Performances
June 30, 2018 Yuki Kajiura Live vol#14 ~25th Anniversary Special~
July 1, 2018 Yuki Kajiura Live vol#14 ~25th Anniversary Special~
July 6, 2018 Anisong World Matsuri at Anime Expo 2018
July 12, 2018 Yuki Kajiura Live vol#14 ~25th Anniversary Special~
July 15, 2018 Yuki Kajiura Live vol#14 ~25th Anniversary Special~
July 22, 2018 Yuki Kajiura Live vol#14 ~25th Anniversary Special~
December 28,2018 Composers Summit Concert 2018
June 15, 2019 Yuki Kajiura LIVE vol. # 15 – Soundtrack Special at the Amphitheater
June 16, 2019 Yuki Kajiura LIVE vol. # 15 – Soundtrack Special at the Amphitheater
July 6, 2019 Yuki Kajiura LIVE vol. # 15 ~ The Junctions of Fiction 2019 ~
July 7, 2019 Yuki Kajiura LIVE vol. # 15 ~ The Junctions of Fiction 2019 ~
July 20, 2019 Yuki Kajiura LIVE vol. # 15 ~ The Junctions of Fiction 2019 ~
July 21, 2019 Yuki Kajiura LIVE vol. # 15 ~ The Junctions of Fiction 2019 ~
August 2, 2019 Yuki Kajiura LIVE TOUR vol.#15 ~The Junctions of Fiction 2019 [Asia Tour] in Shanghai~
August 4, 2019 Yuki Kajiura LIVE TOUR vol.#15 ~The Junctions of Fiction 2019 [Asia Tour] in Hong Kong ~
August 11, 2019 Yuki Kajiura LIVE vol. # 15 ~ The Junctions of Fiction 2019 ~
August 16, 2019 Yuki Kajiura LIVE vol. # 15 ~ The Junctions of Fiction 2019 ~
August 17, 2019 Yuki Kajiura LIVE vol. # 15 ~ The Junctions of Fiction 2019 ~
August 25, 2019 Yuki Kajiura LIVE TOUR vol.#15 ~The Junctions of Fiction 2019 [Asia Tour] in Taipei ~
October 19, 2019 Princess Principal THE LIVE Yuki Kajiura × Void_Chords
October 20, 2019 Princess Principal THE LIVE Yuki Kajiura × Void_Chords
March 13, 2021 FictionJunction Station" Talk & Live vol#1
March 14, 2021 FictionJunction Station" Talk & Live vol#1
April 3, 2021 FictionJunction Station" Talk & Live vol#1
April 4, 2021 FictionJunction Station" Talk & Live vol#1
June 5, 2021 Yuki Kajiura LIVE vol.#16 ~Soundtrack Special~
June 6, 2021 Yuki Kajiura LIVE vol.#16 ~Soundtrack Special~
June 13, 2021 Yuki Kajiura LIVE vol.#16 ~Sing a Song Tour 2020~
June 26 2021 Yuki Kajiura LIVE vol.#16 ~Sing a Song Tour 2020~
June 27, 2021 Yuki Kajiura LIVE vol.#16 ~Sing a Song Tour 2020~
July 10, 2021 Yuki Kajiura LIVE vol.#16 ~Sing a Song Tour 2020~
July 11, 2021 Yuki Kajiura LIVE vol.#16 ~Sing a Song Tour 2020~
July 18, 2021 Yuki Kajiura LIVE vol.#16 ~Soundtrack Special~
July 28, 2021 Yuki Kajiura LIVE vol.#16 ~Sing a Song Tour 2020~
July 29, 2021 Yuki Kajiura LIVE vol.#16 ~Sing a Song Tour 2020~
June 18, 2022 Yuki Kajiura Live vol.#17 ~PARADE~
June 19, 2022 Yuki Kajiura Live vol.#17 ~PARADE~
July 2, 2022 Yuki Kajiura Live vol.#17 ~PARADE~
July 3, 2022 Yuki Kajiura Live vol.#17 ~PARADE~
July 9, 2022 Yuki Kajiura Live vol.#17 ~PARADE~
July 10, 2022 Yuki Kajiura Live vol.#17 ~PARADE~
August 11, 2022 Yuki Kajiura Live vol.#17 ~PARADE~
August 12, 2022 Yuki Kajiura Live vol.#17 ~PARADE~
November 6, 2022 SAO 10th Anniversary Event "FULL DIVE"
Discography
Appearances
from the edge – 1st Ending Theme song of season 1 of TV anime Kimetsu no Yaiba
Fairy Game – Theme song of Princess Principal: Crown Handler Movie part 2
Soukyuu no Fanfare 「蒼穹のファンファーレ」 – TV Anime Sword Art Online 10th Anniversary Song