Here is the obsessive collection of everything we know about Yuki. For basic biographical information, please refer to Wikipedia.
Our Collections
Official Sites

[Sites/accounts still updating]

[Older/outdated pages]
---
Short Biography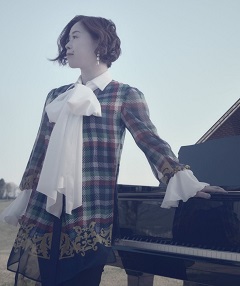 Yuki Kajiura (梶浦由記), was born on August 6, 1965 in Tokyo, Japan. She has been playing music since 1972, accompanying
her father on the piano.
She moved to West Germany because her father was relocated later that year. Just before leaving she composed her first musical piece at age seven, entitled "Thank you, Good-bye" It was a farewell song to her grandmother who would be staying in Japan.
She moved back to Japan in middle school and did not compose more music until her late teens. She graduated from Εnglish literature school of Tsuda University (source), and after graduating from university in March 1988, she joined Nippon Telegraph and Telephone (NTT) in April of the same year and began working as a engineer, and meanwhile founded the girl-band See-Saw, until 1992 when she decided to focus more on See-Saw and quit her job.
See-Saw released six singles and two albums before 1995 when they broke up. Yuki continued in the music industry as a solo composer, composing soundtracks for animes, TV, commercials, video games, and other artists (see discography). See-Saw was reunited in 2001, creating more hit singles. In the same year, Yuki Kajiura began composing Noir for Koichi Mashimo, who she would continue to work for on many projects.
Kajiura founded the FictionJunction project with Yuuka in 2003, later adding Wakana, Keiko, Kaori, and Asuka, as vocalists. 2003 also saw the release of her first solo album to date, Fiction.
In 2007 she founded the Kalafina project including the vocalists Wakana Ootaki, Keiko Kubota, Hikaru and Maya.
In 2011, Yuki released her 2nd solo album called Fiction II, containing, like the first one, mostly songs she wrote in english.
On January 23, 2018 Yuki Kajiura left Spacecraft Produce, after more than 20 years working with them, due to disagreement with some new Spacecraft executives. She also quit as Kalafina's producer, and Kalafina disbanded with the members starting solo career.
During the first Yuki Kajiura Live vol.#13 (June 30), Yuki Kajiura announced her one-person agency company called "FictionJunction Music", as well as her new fanclub, later revealed to be named FictionJuction Station.
Yuki Kajiura enjoys continuing success as a composer and still works with animation, documentary and live action movie studios to bring us the great music she has become known for.
Awards
Yuki Kajiura won the Sound / Performance Award in Tokyo Anime Awards Festival 2018 for her work on Princess Principal
Yuki Kajiura was rewarded the "Best Music" Award for her works on Heaven's Feel & SAO Alicization on Tokyo Anime Awards Festival 2020
Yuki Kajiura was rewarded the "Best Music" Award for her works on Heaven's Feel & SAO Alicization on Tokyo Anime Awards Festival 2021
Yuki Kajiura shared with Go Shiina the 44th Japan Academy Award for Kimetsu no Yaiba: Mugen Train in two categories: best music and best animated film.
Discography
This includes only the purely Yuki Kajiura releases (that are not related to show, game or jpop collaboration). Click here for the complete discography.
Magazines
---