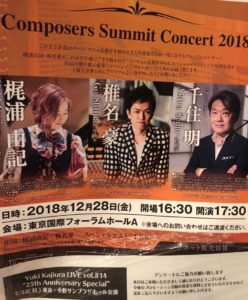 Today it was announced that Yuki Kajiura will take part in Composers Summit Concert 2018, on December 28, 2018, along with Go Shiina and with Akira Senju as special guest. Musicians & Vocalists will be announced in the future.
Date: December 28,2018
Venue: Tokyo International Forum Hall A
Artists: Yuki Kajiura / Go Shiina
Special Guest: Akira Senju
Musicians & Vocalists will be announced later.
Event official site: http://www.csc2018.jp/
Akira Senju is known for his work in Full Metal Alchemist,  Yomigaeri, Tales of Vespiria  and Gundam Victory (back in 1992), while Go Shiina is known for  his work at Tekken, God Eater and Idolmaster, Ace Combat 3, and various other of the Tales of games. Both composers seem to mainly work under Bandai Namco, and judging from vol #14 credits, Kajiura is probably going to do that too in the future. With them doing mainly games soundtracks, we can guess that in the tracklist for Kajiura's part, there will be many Xenosaga musics, as it was a namco game.
thanks to elcazador for the news!