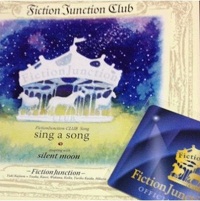 As mentioned in a previous news post, FictionJunction CLUB will release a single exclusively for the club's members, titled "sing a song", coupling with "silent moon".
Today we found out (thanks to this blog), that the single will be released on March 16, 2012 – same day as the first Yuki Kajiura LIVE vol. #8 🙂
Also, judging by the line at the bottom of the cover, Yuuka and Hikaru will be participating in the single as well :D.
Please note that in order to join the FictionJunction club, you must have a Japanese mailing address. Alternatively, you can employ one of several Japanese fan club services (e.g. mukunoki) to redirect the mail for a massive service fee.
Thanks to elcazador and minkara!