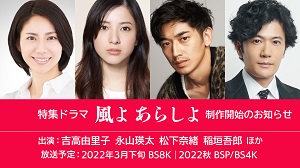 Yuki Kajiura's staff twitter account announced today that she wrote the music for the NHK Drama Special Kazeyo Arashiyo based on the novel by Yuka Murayama, published in 2020. The drama special is set to be aired on NHK BS8K in late March 2022, and then on BS Premium, BS4K in Autumn 2022.
Yuki Kajiura has previously written music for other live action documentaries (Rekishi Hiwa Historia) movies (Achilles to Kame) and dramas (Hanako to Anne) or specials (15 Sai no Shiganhei, Eien no Nispa), to mention the most recent ones.
About Noe Ito.
Noe Ito. Women's liberation activist of the Taisho era.
A hundred years ago, with the power of a single brush, she challenged the institution of marriage and social morality head-on.
Her only source of inspiration was her overflowing passion.
She lived a life of unrestrained freedom and was about to blossom as a writer when unreasonable violence took her life at the age of just 28. Her life of bravely confronting the social contradictions of today, such as poverty and gender inequality, is once again powerfully shaking the current stagnation.
Based on the novel by Yuka Murayama, winner of the Yoshikawa Eiji Prize for Literature, and scripted by Mukoda Kuniko Award winner Koichi Yajima, the film features Yuriko Yoshitaka as Noe Ito, and depicts the "flame" of a woman who tried her best to protect freedom.

Synopsis
One hundred years ago, in the Taisho era (1912-1926), Raei Hiratsuka issued a proclamation stating that "from the beginning, women were the sun", and rebelled against the strong tendency of male chauvinism. The women who applauded her began to speak out against society.
Noe Itoh, who grew up in the countryside of Fukuoka, rejected marriage to support her poor family and moved to Tokyo. With a thirst for freedom and overflowing enthusiasm, she supported Radao's bluestocking company and eventually became a "young icon" of the times.
Her first husband, the Dadaists Jun Tsuji, left her, and she met her better half, the anarchist Sakae Osugi, and just as she was about to start to blossom, the Great Kanto Earthquake struck. Unreasonable violence strikes her…
thanks to Justisamuel for the news!