Today at the first Yuki Kajiura Live vol#14 in Tokyo, Yuki Kajiura announced (and confirmed rumours) that she made her own one-person company named "FictionJunction Music", probably in place of SpaceCraft Produce which she left last February.
A photo from the live shows a booth with a tablecloth with the new logo: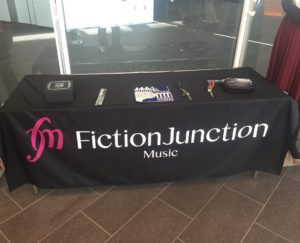 Another photo from concert ticket shows the company as organiser and not a record label which are listed on the next line.
More details will be added as they are announced.
thanks to Westkana for the news!
[Update July 1st, 2018]
According to an LisAni article, during the July 1st Yuki Kajiura Live vol#14, Kajiura-san in an MC talked again about her new company and she also announced that a new Fanclub will be established this Autumn
In other news, AnimeNewsNetwork has published a new interview with Yuki Kajiura in light of her AnimeExpo 2018 performance