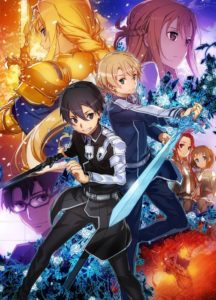 Just few days after the SAO Ordinal Scale BD's release, the Sword Art Online stage panel at the "Dengeki Bunko Aki no Saiten 2017" (Dengeki Bunko Fall Festival 2017) event in Tokyo announced (ANN : 1, 2) 2 new SAO Projects.
First, the SAO series will continue with the 3rd season of the TV anime, adapting the Alicization Arc of the SAO novel by Reki Kawahara (ranging from vol 9 to 18) and will be titled Sword Art Online: Alicization, and from the trailer is shown that Yuki Kajiura will still be composer for it. This series will still have Kirito and Asuna as well as many new characters, among them, Ai Kayano will play Alice (blonde girl), and Nobunaga Shimazaki will play Eugeo (blonde guy).
Sword Art Online TV anime S3 announcement PV pic.twitter.com/hPku9rbcdT

— moetron | pKjd (@pKjd) October 1, 2017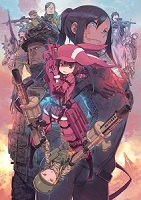 Secondly, an Alternate version of "Gun Gale Online" arc of the novel, this time created by Keiichi Sigsawa will be also made into TV anime, titled Sword Art Online Alternative Gun Gale Online.
This one has totally new characters. Tomori Kusunoki will play Llenn, and Yōko Hikasa will play Pitohui. Kazuyuki Okitsu will play M, and Chinatsu Akasaki will play Fukaziroh.
From the trailer its shown that Y.Kajiura is not involved in this.
thank to tsubasa!