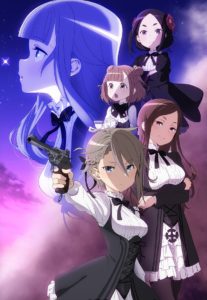 Today was announced at the official site of Princess Principal TV anime that Yuki Kajiura will compose its music!!!  The anime will start airing in Summer 2017 (still no set date). Masaki Tachibana is directing the series. Sound Director is Yoshikazu Iwanami. The animation is by 2 studios: Studio 3Hz and Actas.
Plot intro from ANN:
The "spy action" series follows five girls in 19th century London, a city within the Albion Kingdom divided into east and west by a large wall. The girls serve as undercover spies enrolled as students at the prestigious Queen's Mayfair school. The girls make use of their individual abilities to remain active in the underground world of disguise, espionage, infiltration, and car chases.
There's also a trailer out with some new BGM 😀
The anime is made to promote a game of the same title (Princess Principle Game of the Missions) that will come out in July
thanks to elcazador and Yurika-chan for the news!