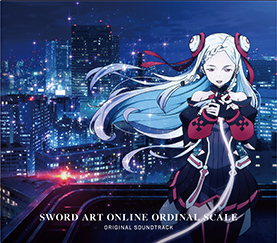 The SAO Ordinal Scale website has updated with the coverart for the upcoming movie!
As you already know, there will be 2 discs inside, one with the soundtrack, composed by Yuki Kajiura, and one with 5 character songs sung by Sayaka Kanda, who plays the character Yuna, pictured on the cover. There are no credits for the character songs but samples from trailers hint they could be composed  by Yuki Kajiura too 😀
Title: Gekijōban (movie) Sword Art Online – Ordinal Scale – Original Soundtrack
Release Date: February 18, 2017 (theaters), Febraury 22, 2017 (general release)
Product Codes: ANTC-70255 ~ 70256 (theaters), SVWC-70255 ~ 70256 (general release)
Price: 3,500+tax (general release)
Discs: 2
First press Bonus content: Case with anime illustration
Preorder from CDJapan
thanks to elcazador!
Update: SonyMusicShop has updated with the tracklist! (thanks to grunty!)
Update 2 (February 1): Yuki Kajiura has confirmed with a twit that she wrote the character insert songs of the SAO movie, included in the 2nd Disc of this soundtrack 😀 (thanks to yuki.n)