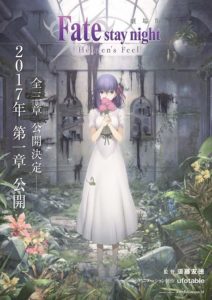 The Fate/Stay Night Heaven's Feel website has announced that Yuki Kajiura will be responsible for the music of the movie trilogy by ufotable!!
The fact that there will be a trilogy was announced few weeks ago at AnimeJapan 2016. There were also announced that Tomonori Sudou is directing the films, and Takahiro Miura is writing the storyboards. Also a TV anime of Fate/Extra has been announced by Shaft.
The first movie is expected to come out in 2017.
Trailer with music not by YK

and here's an older pv
thanks to grunty and elcazador for the news!!