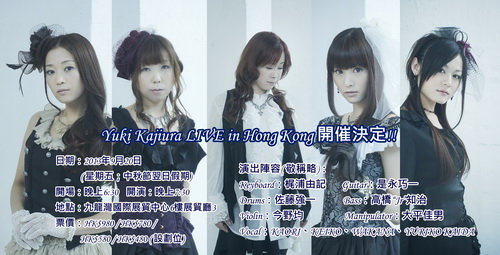 The ED Production.com.hk website has announced that Yuki Kajiura and FictionJunction will do a concert with full band in Hong Kong on September 20, 2013!
Concert name: 「Yuki Kajiura LIVE in Hong Kong」
Date: September 20, 2013
Opening Time: 6:30 pm
Curtain time: 7:30 pm
Location: Kowloon Bay International Trade and Exhibition Centre, 6th Floor Rotunda 3, Hong Kong, China
Tickets: HK $ 980 / HK $ 780 / HK $ 580 / HK $ 480 (General Admission)
Vocal: FictionJunction (KAORI, KEIKO, WAKANA, YURIKO KAIDA)
Keyboard: Yuki Kajiura
Guitar: Koichi Korenaga
Drums: Sato Kyoichi
Bass: Takahashi "Jr" Tomoharu
Violin: Konno Hitoshi
Manipulator: Ohira Yoshio
Ticket details will be announced later.
Τhanks to Smiley for the news!
Dont forget to contribute below 😉