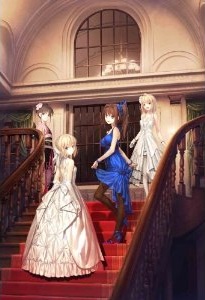 Great news come today from the online stores too, since the Blu-ray release for the 2012 Type Moon Festival (held July 7 – 8, 2012) contains juicy Yuki Kajiura and Kalafina performances!
Title: TYPE-MOON Fes. – 10th Anniversary Blu-ray Disc Box –
Release Date: January 16, 2013
Product Code: ANZX-6455
Region: Region Free
Price: ~ 9333yen
[Preorder from CD Japan]
The release will contain:
2 BD discs with the main event divided in 5 "programs":

1st Program: Live Yuki Kajiura (FictionJunction (secret guest) performs the beginning of the end, the battle is to the strong), 2nd Program: Fate / Zero (determining best scene), 3rd Program: Carnival Phantasm, 4th Program: Hibichika Radio (Popularity poll), 5th Program: Songs

Kalafina at the event performed all 8 songs of the Kara no Kyoukai movies (oblivious, Kimi ga hikari ni kaete yuku, Kizuato, Aria, sprinter, fairytale, seventh heaven, snow falling) as well as Fate/Zero's to the beginning, and manten, and are all going to be included along with Haruna Luna's Sora wa Takaku Kaze wa Utau

Other artists whose performances are included are: LR harmony (Super☆Affection, From new world. THIS ILLUSION -10th moon harmony-), Faylan (mind as Judgment」), LiSA (oath sign), Aoi Eir (MEMORIA).

1 BD disc with Special Content (Carnival Phantasm new episode (26 min), Kara no Kyoukai Mirai Fukuin Movie PV, NEXT TYPE-MOON CONTENTS Trailer
Drama CD with Nasu as the director. The Box of the release will be specially drawn and there will be included original booklet too
Thanks to elcazador, rishi and Keiri for the news!