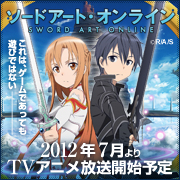 It has been announced on the Sword Art Online official website as well as Yuki's Twitter that Yuki Kajiura will be composing the soundtrack for the anime adaptation, set to air July 2012! The anime is based on a light novel series, and is in development along with a video game.
There's also a PV of the anime on the official site with some super EPIC music:
Thanks to Keiri and Cerise for the news!