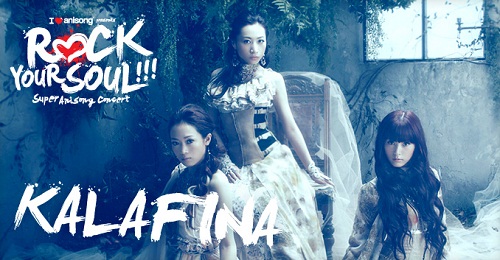 According to the official website of Anime Festival Asia 2011 (aka AFA 2011) (November 11-13) which this year will be held in Singapore, Kalafina are among the guests of the event! This is the first time that Kalafina will go at Singapore. They will perform on November 13th, at the SUNTEC Convention & Exhibition Hall,Singapore in the "I Love anisong" concert.
Event: Anime Festival Asia 2011
Location: SUNTEC Convention & Exhibition Hall, Singapore
Date: November 13th, 2011.
Tickets: Click here for more info (the paragraph before "Cool Japan Forum..").
Click here to see Kalafina's special page.
Other artists that are also invited are LiSA (will perform the OP theme for Fate/Zero), FLOW, May'n, Ichirou Mizuki, Hatsune Miku. There will be also invited the producer of Puella Magi Madoka Magica and Fate/Zero Atsuhiro Iwakami, as well as Chiwa Saitou voice actress of Akemi Homura.
In other news, a Korean version of Kalafina's 3rd album After Eden has been spotted at yesasia. According to the site, it will be released in Korea at October 11, 2011, and is available for preorder (although it doesn't seem to have anything different than the Japanese version.).
Additionally, we are still looking for an editor to create the brand new merchandise section of our site! It will deal with concert goods, books (like Kalafina Record), calendars, etc. If you're interested in the position, leave a message on this post or email kerahna at canta-per-me.net. Click here for more details.
Thanks to Tatsuma for the news ~!
[EDIT] You can view Kawaii Girl Japan's Kalafina interview part 4 here